Whatever method of training is used, (open learning, taught courses or online learning) the multiple choice test that leads to the qualification has been developed by REHIS and Seafish to reflect the interests of each sector.
The Elementary Food Hygiene qualification is formally credit rated to SCQF Level 5 (Level 2 in England, Northern Ireland and Wales).
Sectors covered by exam packs
Fish friers
Fishmongers
Processors and manufacturers
Fishermen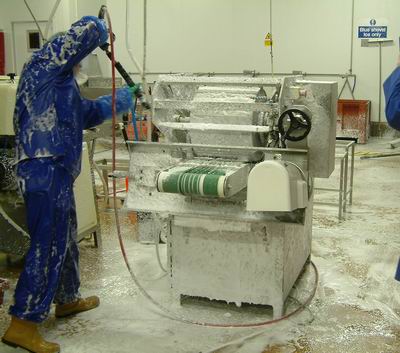 The open learning module (hygiene and cleaning in the seafood industry) is approved by REHIS and can lead (by examination) to an Elementary Food Hygiene certificate. REHIS's Elementary Food Hygiene Certificate is internationally recognised and is equivalent to a level 2 food safety qualification.
Seafish has a long working relationship with REHIS and is pleased to be able to offer Elementary Food Hygiene qualifications to all parts of the fish and shellfish industry, throughout the UK.
The Seafish hygiene module has successfully delivered training to more than 10,000 food handlers in the UK fish and shellfish industry. The success rate for candidates is over 98%.
The hygiene module is available in English as well as Lithuanian and Polish. We can offer examinations in all three languages at Elementary Level. If you need to undertake an exam in a language other than these three, then we can offer Introductory Food Hygiene examinations in Latvian, Portuguese, Russian, Spanish and Welsh as well.
Introductory Food Hygiene is a half day taught course.
Module Contents
A detailed look at bacteria
People cause problems
Avoiding contamination
Keep it clean
Contamination and Food pests
You and the law
Self assessment questions
Basic HACCP Guide
Trainees are also supported by the Strikeback 2 DVD, which is available free with purchases of the Hygiene and Cleaning Open Learning Module or available online as 5 programmes here:
The Benefits
Nationally-recognised qualification - Trainees who successfully complete the post course examination will receive a REHIS certificate.
Course Location - This self-study course is available in all parts of the UK, with local invigilators available to deliver onsite examinations.
Suitable for all - More than 10,000 trainees have studied this programme from single individuals to an entire factory of 256 employees, including fish friers, mongers and processors.
A cost-effective means of training staff and acquiring a nationally recognised qualification.
Food Safety Training by Hygiene Online Learning Materials
Help is now at hand. The open learning module is also available as online learning materials. With all the contents available online there are now another great way to learn about food safety and food hygiene.
The Online Pack pack is free to study, and if you then want to sit the formal exam that can lead to a REHIS qualification then our UK network of exam invigilators and approved training providers can help (fees similar to those for open learning will apply).
Level 2 Food Safety Training for the Seafood Industry - Taught Courses
Course content
Hygiene and cleaning in the seafood industry is also a one day taught course for the REHIS Elementary Food Hygiene Certificate.
Nationally-recognised qualification
Trainees that successfully complete the post course examination will receive a REHIS certificate. An attendance certificate is also available.
Seafood specific
While meeting the requirements for nationally recognised qualifications, our courses are tailored to meet the specific needs of the various sectors of the seafood industry.
Course location
This course is available in most parts of the UK, although the location of the venue and trainer may affect the final cost of delivery.
Taught
For all sectors in the seafood industry
Delivered by Seafish approved and experienced trainers
Designed to meet the needs of the seafood industry
Nationally recognised
6 hours of training plus multiple-choice test
Boost customer confidence and enhance the reputation of your business
For all sectors in the seafood industry
Open Learning
Open learning available in

English, Lithuanian, Polish and Portuguese

Designed to meet the needs of the seafood industry
Nationally recognised
Train where and when you want
Onsite examination
Boost customer confidence and enhance the reputation of your business